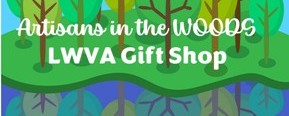 Originally Designed Tote Bags for Women and Children
by Susan Bea
For sale Exclusively at "Artisans in the Woods" Gift Shop in
Lansdowne Woods of Virginia Community Clubhouse
19375 Magnolia Grove Square, Lansdowne, VA 20176
Biographical note: I started making stitchery items as a stay-at-home mother in Texas in the 1970s. I carried boxes of material around with me for 9 moves after that and now in retirement have started making things again beginning with lined tote bags.

Women's Tote Bags ($25-worth every penny!)
Each bag is a one-of-a-kind piece of art. Hand Washable. Has pocket inside. Very sturdily made.
To be treasured by a daughter, niece, friend.

Whale Appliquéd Bag
(includes scented sachet)

Hand-Embroidered Tulip Design
(includes scented sachet)

Butterfly Appliquéd Bag
(includes scented sachet)

Inside Whale Bag

Inside Tulip Design Bag

Inside Butterfly Bag


Hand-Embroidered Rust Design on Blue Bag
(includes scented sachet)

Gardener's Bag with Appliquéd Flower Pots
(pocket on back; includes scented sachet)

Shells Bag with Embroidered Appliqué
(includes scented sachet)

Inside Rust Design on Blue

Inside Gardener's Bag

Inside Shells Bag


Owl Bag with Appliqué
(pocket on back; includes scented sachet)

Mushroom Scene Appliquéd Bag
(includes scented sachet)

Rust Paisley Flowers Appliquéd Bag
(includes scented sachet)

Inside Owl Bag

Inside Mushroom Scene Bag

Inside Rust Paisley Flowers


Roses Bag with Appliqué
(includes scented sachet)

Black Embroidered Paisley Bag
(pocket on back; includes scented sachet)

Hand-Embroidered Bandana Print
(pocket on back; includes scented sachet)

Inside Roses Bag

Inside Black Paisley Bag

Inside Bandana Print Bag


Appliquéd Sunflowers Bag
(includes scented sachet)

Hand-Embroidered USA Road Trip Bag
(includes scented sachet)

Hand-embroidered Sleeping Kitten Bag with Appliqué
(includes scented sachet)

Inside Sunflowers Bag

Inside USA Road Trip Bag

Inside Kitten Bag

Go to Children's Tote Bags
(check back for new designs to be added in the future!)
RETURN TO GIFT SHOP HOMEPAGE


All designs are copyrighted by Susan Bea Merk

Original Tote Bag Designs by CARPEDIEM!
© 2023; 703-858-1589; sbmerk at verizon.net