Hamburg, NY, March 22, 2007 - A southtowns landmark has gone up in flames. Fire officials say the preliminary cause is improperly discarded smoking materials behind the bar and restaurant. Now, the building owner has some decisions to make. As firefighters from 14 fire companies worked to put out the fire at the Buxton Inn, the building's business owners watched years of hard work go up in flames.
Restaurant owner Bill Lindy said, "I don't know what I'm going to do right now; it's hard to say. I don't know." Buxton Inn owner Ron Jewitt said, "It's got a little historical significance, you know, but it's just a shame." Thursday was Ron Jewitt's birthday. He was working in his tax office upstairs around 6:20 Thursday morning when the fire was first spotted.
His daughter, Christine Kirby, said, "He didn't hear anything or smell anything, and somebody that was driving by and saw the flames went into my dad's office and told him he had to get out." Everyone got out of the building safely. But one firefighter was treated on-scene for minor injuries when some ceiling materials fell on her during the overhaul process.
Firefighters spent about four hours putting out the fire and hot spots. Lake Shore Assistant Fire Chief Chad Witkowski said, "The crews did really well; excellent job by everybody. We couldn't have done it without everybody."
The Buxton Inn is one of the oldest buildings in the Town of Hamburg, dating back to 1869. Fire officials believe the structure can be rebuilt, but estimate there's about $200,000 in damage. This building has a great deal of historical significance to the town. The town historian says it was built out of bricks that were made right in the Town of Hamburg.
Members of the Potter family of Lake View are descended from Braley Buxton.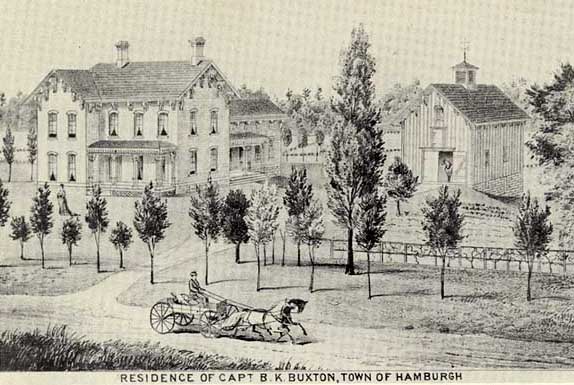 Source: Buffalo Architecture

Send comments or questions re: this webpage to sbmerk at verizon.net
© Copyright 1999-2022 Last Update: 02/27/2022