The following is an edited excerpt from Susan Ward's
autobiography, written in 1959 at age 15
which is dedicated to her mother
Carolyn Elizabeth Spittler Ward

"My mother, Carolyn Ward, was a "one-in-a-million" kind of person whose greatest joy in life was helping others. Everyone who ever knew her respected and loved her and I am thankful that I have beautiful memories of her, for I only shared her love for 9 short years.

She was born Carolyn Elizabeth Spittler on July 7, 1906 in Lake View, NY. She was the second oldest of her 3 brothers and 1 sister. She attended Lake View Elementary School and then Lackawanna High School. After high school she attended a private business school in Buffalo, NY.
All through her life she was very active in the church and was a teacher and then superintendent of the Lake View Congregational Sunday School. Her first job was working at the Nash Clothing Co. in Buffalo as a secretary and she was also employed at the Wanakah Country Club in this same capacity. She saved her money and at 20 bought her first car, a yellow Ford coupe.

In 1933 at age 27, she married Robert Ward of Boonville, NY whom she had met while working at the Nash Clothing Co. Through the Depression years and with the expenses of raising 4 children, she never had many of the conveniences that other women of that day had but through all this she never complained and would have sacrificed anything to provide for her children or to help anyone in need.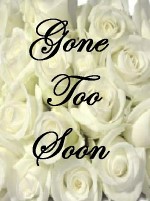 In 1952 she found out she had cancer. She went to Roswell Park Hospital which specializes in cancer treatment and the growth was removed. But by this time the cancer had spread and soon she was confined to a wheel chair. I was only 9 at the time but I remember how depressed and sorrowful she would get because she knew she was not going to live long.
On August 14, 1953 the Lord thought it best that she leave this world behind. Perhaps it is a blessing that she died for she was in great pain not only physically but in her heart. My mother never achieved any political or historical position in the world but the remembrances from people before and after her death showed how well she was admired by everyone who knew her. To me she stands for everything I wish to be someday."















And from her youngest brother Donald Spittler...
"My sister Carolyn Spittler Ward was ambitious, very resourceful, extremely capable at any task and always so friendly to everyone. I often think of her in light of all of today's opportunities for women. She had all the attributes of a CEO of a major corporation and was greatly admired by her contemporaries. The Ward children can be thankful for the wonderful mother they had and the guidance she imposed on them."


SPITTLER FAMILY TREE FAMILY PHOTOS

METZ FAMILY TREE


FAMILY RECIPES

DESCENDANTS of GEORGE W. & EDITH METZ SPITTLER


SPITTLER-METZ NARRATIVE MORE INFO ON LAKE VIEW, NY

Also visit my Family website on Ancestry.com at
http://trees.ancestry.com/fhs/home.aspx?tid=4590788













Susan Ward Merk's HOMEPAGE


For questions or comments on this webpage contact: sbmerk@verizon.net
© Copyright 1999-2018 Last Update: 01/10/2018