Lake View on Wheels - Bicycle Boom Hits Lake View


During the "Bicycle Boom" prevalent in the US in the late 1800s, the Queen City Cycle Co. of Buffalo, NY selected a site in Lake View to expand its production facilities, which was near the sidings in place from the Gatling Land Boom at Idlewood Station, and constructed a factory there in 1895. The economic importance of the factory in Lake View was great, employing up to 600 men/day in the winter months, working in 2 shifts and producing 250 bicycles/day in peak periods. However, working conditions at the facility were unhealthy, with men working long hours (7am to 10pm) for little pay. In 1896, the business was sold to the Day Manufacturing Co. Due to faulty construction and poor management, the factory closed in 1903. Read more in Ray Healy's History of Lake View - Lake View on Wheels 1895-1903

See photo and description of building which housed the bike factory.
---
Worker, Earl Benjamin pictured inside Bicycle Factory
Operated in Lake View from 1895-1903
(undated photo provided by Jon Buchwald)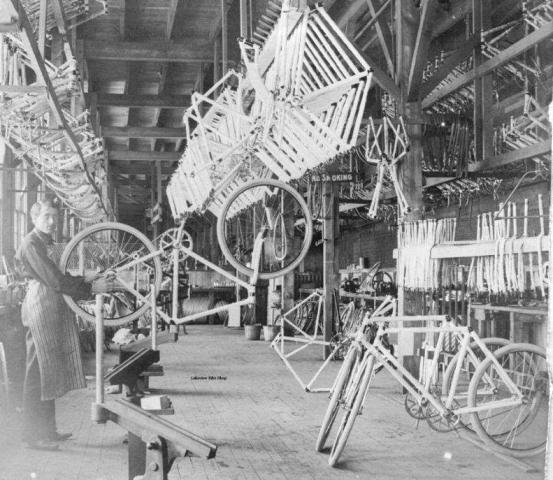 2 bicycles manufactured in Lake View in 1898 are listed here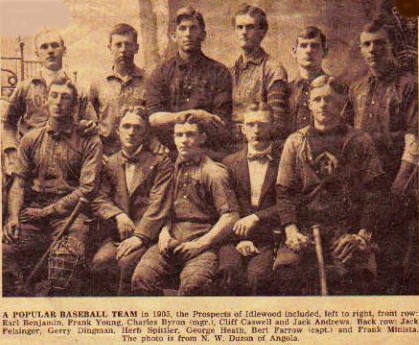 Baseball Team (the "Prospects") formed in Idlewood area around
Bicycle Factory Won 28 games in one season
(Photo provided by Donald Spittler)

See article from Hamburg Sun about this team


LAKE VIEW COOKBOOK FROM 1950's RETURN TO LAKE VIEW TIMES


MORE PHOTOS OF LAKE VIEW HISTORY OF LAKE VIEW