HISTORY OF LAKE VIEW, NY
covering the years 1804 to 1924
Written in 1965 by Raymond V. Healy, BS, MS Ed 
(provided by William Smith, former resident of Lake View)

based in part on interviews with:
Allen Ames, Richard Fierle, Leland Hazard, Shirley Hansen, William Heil and Donald Spittler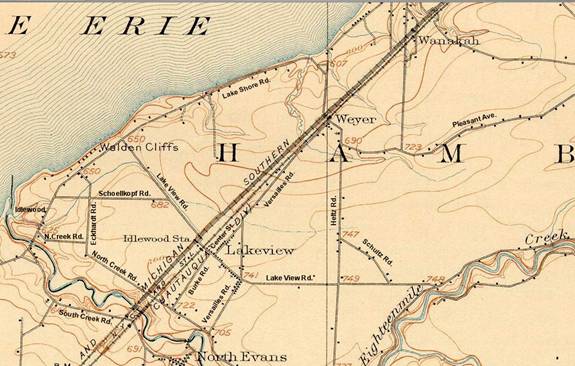 Map of Lake View, NY in 1907 (view more maps)
(provided by Stephen Greene)

Table of Contents & Formative Years up until 1892

Read Interview with Donald Spittler conducted in 1987
W. S. Sikes Store in North Evans, NY - 1860

As noted by Ray Healy in his "History of Lake View" (above) Lake View was an outgrowth of North Evans, NY on the south side of 18-Mile Creek, which originally grew up around a tannery built by Hiram Jones in 1840 and later enlarged by Jacob Schoellkopf.

To the left is an old photo of some men in front of the W. S. Sikes Store in North Evans taken around 1860. This store is noted on a 1880 map of North Evans, on the corner in the center of town.

According to the History of the City of Buffalo and Erie County, W. S. Sikes was also the clerk of the 2nd Congregational Church in North Evans from 1862 to 1884.

This photo sold for $2,425 on eBay on 12/30/08.

View list of people buried in North Evans Cemetery.
LAKE VIEW COOKBOOK FROM 1950's RETURN TO LAKE VIEW TIMES

PHOTOS OF LAKE VIEW