LAKE VIEW HOTEL (circa 1908)
(Photo provided by Donald Spittler, unofficial Lake View historian;
see later photo provided by Gary Pericak)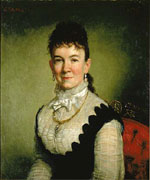 One of the best-known landmarks in Lake View, NY is certainly the LAKE VIEW HOTEL. Catherine Walden Myer (1828-1893) daughter of Ebenezer Walden (1777-1857), a mayor of Buffalo from 1838-39 and a member of the Electoral College (who had an estate nearby and gave the hamlet of Lake View its name) built the hotel in 1880 to serve the many traveling salesmen who arrived on the seven daily trains on the NY Central Railroad (the station was across the street) to sell their wares in the surrounding countryside. The salesmen (called "drummers") would rent a horse and buggy from the livery stable behind the six-room hotel to make their rounds. NOTE: Catherine was the wife of Albert James Myer, a famous Civil War physician and founder of the Signal Corps and the US Weather Service and after whom Ft. Meyer near Washington, DC is named.
(Source of portrait for Catherine Walden Myer is http://americanart.si.edu/collections/search/artwork/?id=10165)

Catherine sold the building to the Hanley family (William Hanley had worked for the Myers) and the homestead of Daniel Hanley was located several hundred feet behind the premises. The Hanley family leased the Hotel to several individuals, including John Murjahn Sr., Maria Fritschie (in photo above), Art Thompson and John Bentley, the latter of whom hung himself in the rear livery barn. Art Thompson finally took title to the property and passed it on to his daughter Olive, wife of Charles Stadler.

The Stadlers operated the Hotel as an ice cream parlor during Prohibition then subsequently obtained a liquor license and maintained ownership of the establishment until after World War II. It was eventually purchased by Reginald Lombard in 1948 who transformed it into the popular smorgasbord restaurant it was for several years. The original structure - pictured above - has gone through fire, renovation, sale and resale and still stands at 1957 Lake View Rd.


View Maps of Lake View (with various locations marked)


Read how Lake View got its name.


View photo of Lake View in 1905 with historical notes


Read more about the Lake View Hotel
Excerpt from the "History of Hamburg" published in 1898: "Lake View is a railroad station in the southwest part of the town, and contains one hotel, the store of F. W. Cook, the factory of the Erie Cycle Company (built in 1895) and a union church (erected in 1892, later named Lake View Congregational).


Bridge over 18-Mile Creek
Looking SW from Versailles and North Creek Rds. in Lake View towards North Evans showing tannery once operated by Jacob Schoellfopf - 1906
(photo contributed by Gary Pericak)

See 1908 map of North Evans showing location of tannery in photo. See how bridge looks now as NYS fishing site called Hobuck Flats.

See photo of W. S. Sikes Store in North Evans, NY in 1860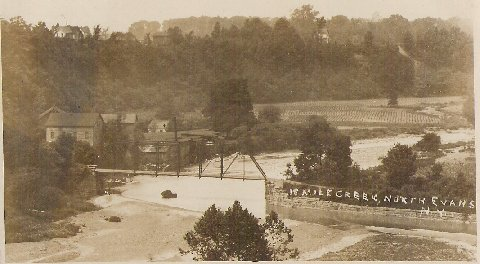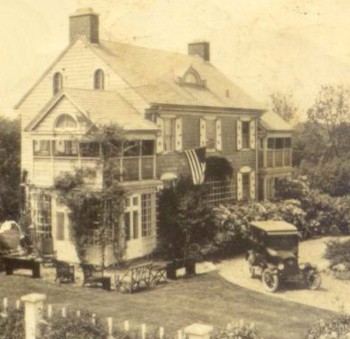 Fisher Estate - Lake View, NY - c.1915
(photo contributed by David Petrus)
The Fischer Estate was located on the south side of North Creek Rd. at Rt. 20 along the creek bank. It was built by the Shepherd family of Buffalo as a summer retreat. Joseph Fischer, a vice-president of M&T Bank, bought the house in the 1930's and lived in there until the early 60s when he passed away. The house was purchased and converted into a restaurant called "The Cliffside" which had some success but eventually closed. The structure sat vacant until a Buffalo real estate developer Frank Parlato purchased it and leased it to a religious commune. (Parlato's plans to develop the Fisher property and land he owned across the street (North Creek) into a housing development fell through, largely due to local opposition.) Eventually, the commune purchased the Fisher property with proceeds from their bakery, and other income. (commentary provided by Ed Patton, current resident of Lake View)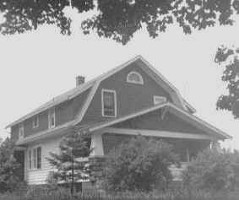 This house built by George W. Spittler on the corner of
Lake View and Burke Rds. in 1931 was occupied
by the Spittler family until 1966, when Edith Metz Spittler passed away.
(submitted by Susan Ward Merk,
granddaughter of George & Edith Spittler)
View photo (with narrative)
of Spittler's Grocery c. 1931

Kalterhouse Tavern c. 1915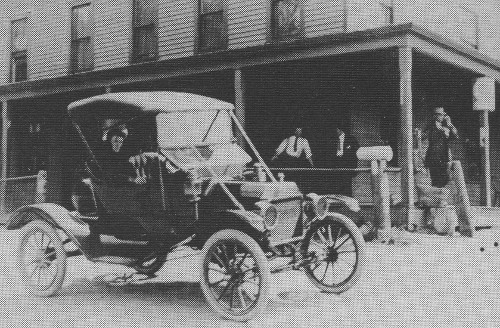 The Kalterhouse Tavern stood at the corner of Pleasant Ave. and Versailles Rd. (on the southeast corner of the latter, where the former office of Acme Shale & Brick was located) in the area originally called Weyer's Crossing (see Map of Lake View in 1907) and later, Shaleton. Jack Schiedel ran the tavern for George Kalterhouse (Kelderhouse). In the 1920s the tavern burned to the ground and Kalterhouse moved across the tracks and built another tavern which later came to be known as the Wanakah Grill. During Prohibition Kalterhouse ran it as a speakeasy, supposedly hiding the booze behind the cereal boxes on the shelf. The Wanakah Grill later was owned by Stan Kocic for many years. After his passing Nichole and Mike Trzepacz bought it.

In the photo above Mrs. George Glass is sitting in the Model T Ford. On the porch of the old tavern, Jack Schiedel is on the left and George Kalterhouse on the right. (Photo submitted by Ed Patton; Original owned by Donald Spittler.)


Red &White Store c. 1930

This store began as Koch's General Store around 1880 and was acquired by W.C. Meyn (standing in the photo with his wife) around 1890. Mr. Meyn operated it until Ralph Fierle bought it.

It also housed the US Post Office for Lake View and had an apartment upstairs.

Get more info here. (Photo contributed by Amy Fierle Preston)

Train Derailment near Acme Shale & Brick plant c. 1954
Read more about the Acme Shale & Brick here.
(Photo provided by Chuck Ward)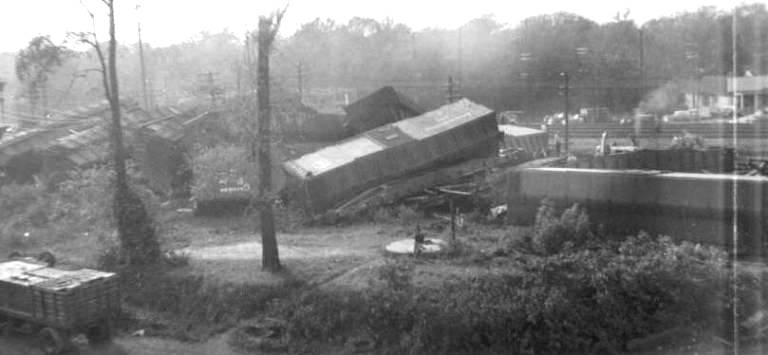 Building Bridge on Rt. 20 Across 18 Mile Creek in 1929 - read narrative from Hamburg Sun

Above photos provided by Duke Spittler, who eye-witnessed construction.
Aerial photo below provided by Michael Petrus shows bridge in 2017.

Looking East on N.Creek Rd.
(when it was still obviously a dirt road)

(photo contributed by David Petrus)

Trolley at Idlewood


(undated-probably mid 1930's)

(photo contributed by Gary Pericak)
Read more about trolley here

See photo inside Queen City Cycle Co. and baseball team (the "Prospects") formed in Idlewood area around Bicycle Factory.

Note North Evans Cemetery in top right corner of photo below.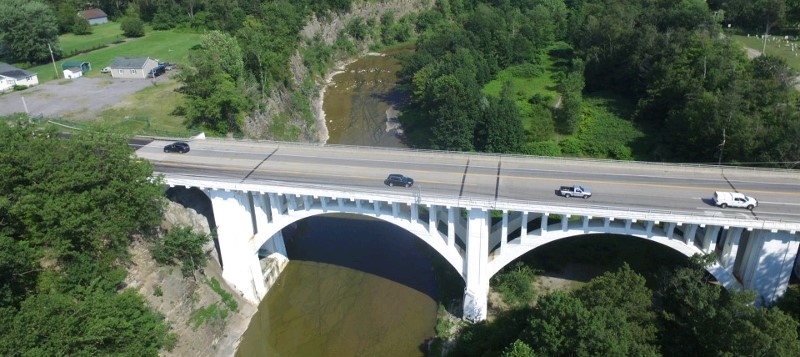 Building of Railroad Trestle Over 18 Mile Creek - 1942-43
(scene of collapse which killed several people)
(photos contributed by Gary Pericak; See what bridge looks like now


Read more about this trestle here.
View info/photos on 18-Mile Creek, More plus Buttermilk Falls

Lake View Railroad Stations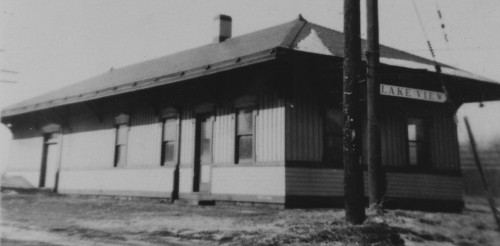 Lake Shore & Michigan Southern (later New York Central) RR which dates back to the Buffalo and State Line Railroad built in 1852.

This station can be seen on the Map of Lake View in 1908 between the two sets of tracks, at the point where Lake View Rd. turns north in front of the Lake View Hotel. It was built in 1868 pursuant to a conveyance of the land from Albert J. & Catherine Walden Myer. Read more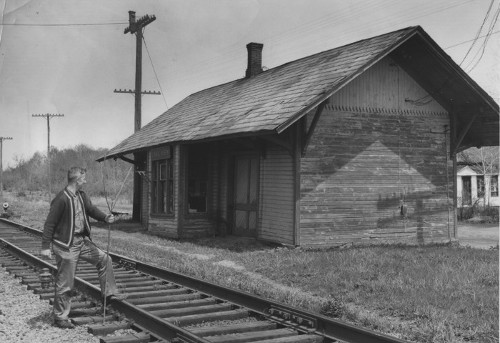 NY Chicago & St. Louis (Nickleplate)/PA RR Station- 1964
(RR line dates back to 1890)

Mr. Frank Lum, the station master, is holding a Y shaped stick in this photo which was used to catch or "serve" the mail to the trainmen. The Lake View Station was dismantled shortly after this photo was taken by Donald Spittler.
This station can been seen on the Map of Lake View in 1908 on the east side of the 2nd set of tracks (from the top) next to the property of J. Christian.

Also see article showing Fred Langbein riding a "speeder" used to inspect the tracks c.1895.
(photos contributed by Ed Patton, former Director of the WNY Heritage Institute and current resident of Lake View; original photo of PA RR Station owned by Donald Spittler)

Lake View Airport (1955)



The Lake View Airport was built in 1945 on land which is now the NYS Thruway. During the construction of the latter, it was moved to a site on Heltz Rd. The Lake View Airport is the only remaining airstrip in the Town of Hamburg.
(Photo provided by Norb Dybowski from article in Hamburg Sun)

Our Lady of Perpetual Help Catholic Church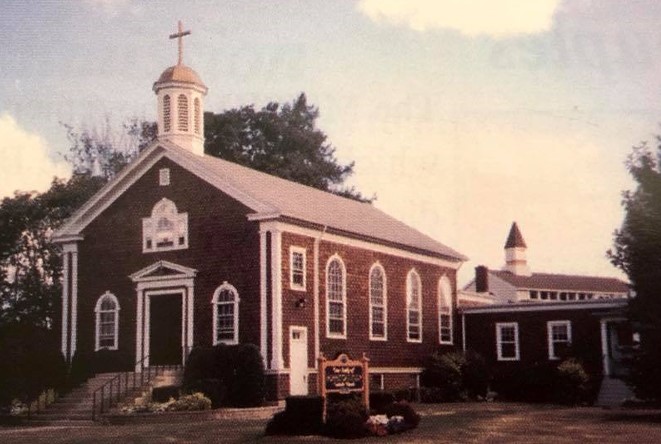 Our Lady of Perpetual Help Catholic Church was built in 1921. The photo above is sometimes called
the "Little Church" since in 2011 it combined with St. Vincent de Paul in North Evans to form
Blessed John Paul II Parish and enlarged the facility.
Read more about this church's beginnings in the "History of Lake View".

Lake View Congregational Church
| | |
| --- | --- |
| The Lake View Congregational Church was built in 1892. Read about its formation in the "History of Lake View". | In the early '60s a brick addition was added to form the current facility above. It is now called Lake View Community Church |
Read news article about the Lake View Congregational Church from 1926.
(Photo on left courtesy of "Images in America-Hamburg" by John Edson)

Photos of Lake View School Photos of People and Groups
Contributors to Lake View Cookbook from 1950's
LV Photos Pg. 3
History of Lake View
Maps Of Lake View