People and Groups
Photos of Lake View School Lake View Cookbook from 1950's
Photos of Lake View Buildings and Scenes More photos on Lake View's Facebook Page





Berry Pickers on George Heath Farm, North Evans, NY - 1889
View names and map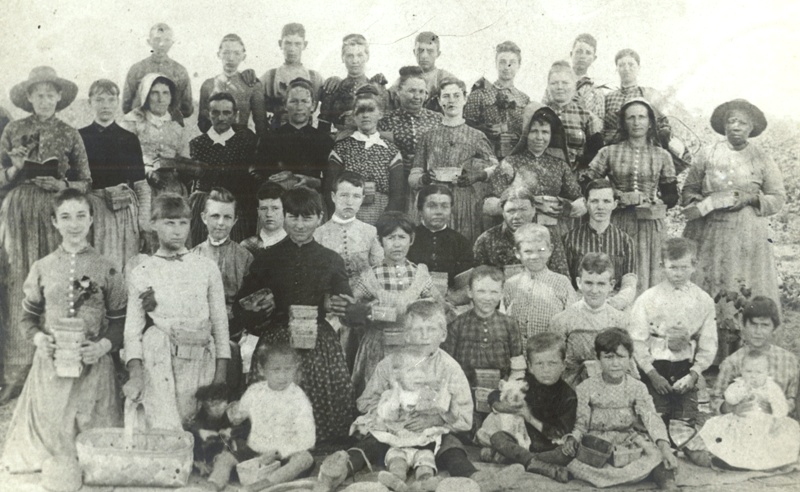 photo provided by Donald Spittler, son of George Spittler (2nd from right in front row, holding little dog)





Boy Scout Camping Trip to Great Valley, NY - 1948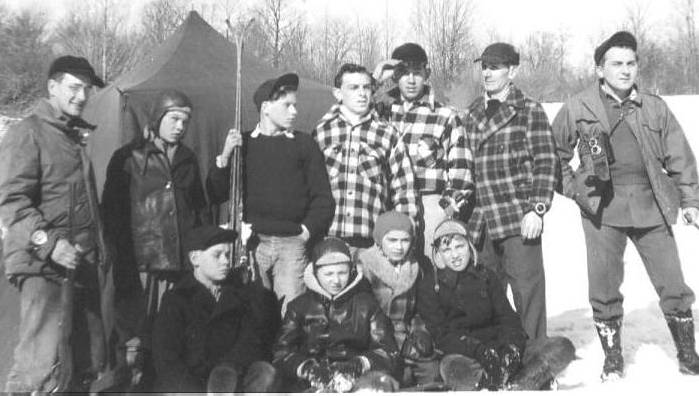 Front Row: Vincent Miller, Frank Fueller, Chuck Ward, Alex Zell
Standing: Herb Anderson, George Hansen, George Miller, Dick DiOrio,
Joe Jamison, Frank Jamison, Duke Spittler
photo provided by Chuck Ward

Lake View Athletic Club - 1950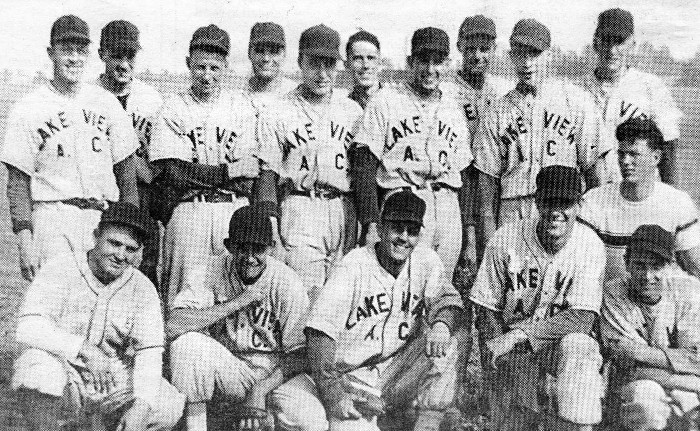 Front Row: Howard Welsted, Bud Spittler, Bill Pohlman, Gene Heil, Jim Foit
Second Row: Wally Fierle (manager), Ted (Red) Durni, Gene Schoetz, Al Fierle,
Jerry Welsted, Corky Eckert (scorekeeper)
Back Row: Rich Fierle, Bob Brudo, Dick Adams, Dick Menz, Paul (Whitey) Durni

The Lake View Athletic Club (LVAC) joined the Buffalo Evening News Suburban Baseball League in 1946. At the time this photo was taken, there were 66 teams throughout the Western NY region. This team registered 16 straight victories to win the Lake Shore League title that year. The LVAC held a reunion on 7/10/06 in Lake View, NY.
(This photo appeared in the Hamburg Sun 7/6/06)
Bud Spittler died in 1998; Corky Eckert died 12/28/2004; Gene Schoetz died 12/6/2006; Paul Durni died 5/14/2010; Rich Fierle died 5/10/2013

Read about Lake View's baseball team in 1928 called "The Allstars"

COUNTRY HARDBALL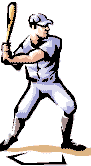 Country Hardball was a way of life in rural Western New York as I was growing up during the 50's. Town pride along with bragging rights was always on the line during these Sunday afternoon showdowns.

I remember a game near the end of one season with my home team - Lake View A.C. playing rival North Collins. On the mound were a couple of formidable veteran opponents - lefty Dutch Houtz (International Leaguer) for Lake View and Marion Fricano (an old Yankee ) for Collins.

The game was close and came down to the final at bat for Collins with the ACers up by one run. Dutch got two quick outs - but walked the next guy. Down to their final out, the next Collins hitter lined a hit for extra bases down the left field line. The runner on first rounded the bag at second and was sprinting to third when the ACer's left fielder inadvertently fumbled the batted ball. Reacting, the runner rounded third and headed for home. It looked like a tie game for sure.

However, the left fielder, thinking quickly, instead of the ball - picked up a rabbit lounging in the shaggy country outfield and relayed it to the cut off man who threw it home . The catcher grabbed the relayed rabbit and expertly tagged the runner - who - of course ...was out by a hare!
COUNTRY HARDBALL - will it ever be like this again?
(Contributed by Mark Fierle, son of Ralph and Helen Fierle)

Lake View Juniors Baseball Team c. 1950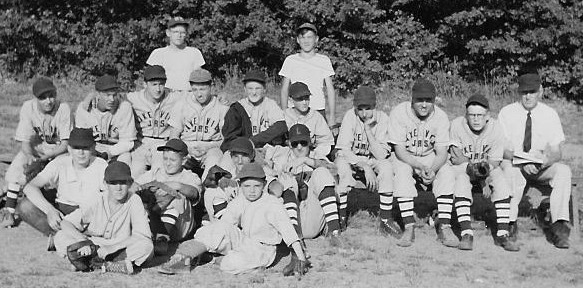 (photo contributed by Peter Gannon, resident of Lake View from 1948-1969)
Back row: unknown
3rd Row: John Klepp, George Hansen, Paul O'Brien, Alex Zell, unknown, unknown, unknown,
unknown, unknown, Tom O'Brien (Coach)
2nd Row: unknown, Bernie Scaletta, Dick Graff, Richie Clark
1st Row: George ("GG") O'Brien, Peter Gannon (bat boys)
Can anyone identify anyone else in this picture?



Class of 1955 - St. Vincent's Catholic School - North Evans, NY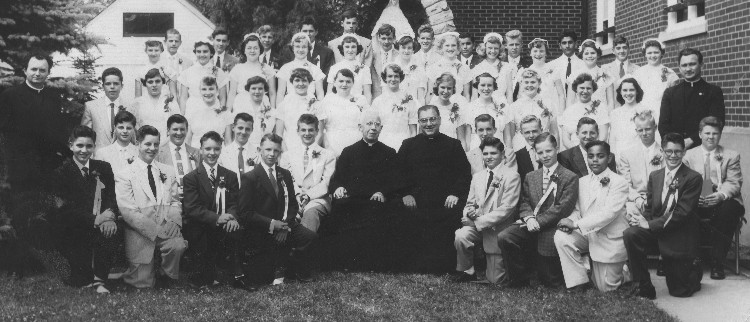 (photo contributed by Ed Patton, current resident of Lake View; names noted "LV" are from Lake View)

1st Row: Philip Mistretta (LV), James Boland, John Maloney, Jack Dedman (LV),
Frank Sorrentino, Robert Stiller (LV), Ron Cleggit, Barry Morgan (LV),
2nd Row: Father Gerencer (Piarist), George Batori, Charles Morgan (always called Chick- LV), Leonard Lesswing, Joseph Picone (LV), Rev. Charles O'Donnell (LV), Monsignor James V. Ennis, George Graeber, Edward Patton (Class President, LV), Peter Boland, Donald Kelly, Donald Gereaux.
3rd Row: Jerome Devlin, Patricia Mure (LV), Judy Rebischer, Pauline Teichman, Sharon Pakenham, Ellen McPeak, Anne Callahan (LV), Mary Jane Funnell (LV), Kathy Broderick, Joyce Walters, Norma Sleszinski, Mary Anne Miller (LV), Rev. Kovari (Priest).
4th Row: Marcia Moran, Lucille Conti, Dorothy Franklin, Loretta Holmer, Nancy Graeber, Betty Breen (LV), Anne Marie Iback, Patricia Duby (LV), Mary Alice Howe (LV), Karen Haenel, Joanne Fierle (LV).
5th Row: Clifford Smith, Thomas Scendry, Adam Driezeger, Paul Albrecht, George Ormandy, Edward Kotechi, Joseph Kroll (LV), George Bala, Sherwood Flowers, Eugene Cassaro, Nicholas Mecca.



Lake View Girl Scouts See Washington, DC - 1959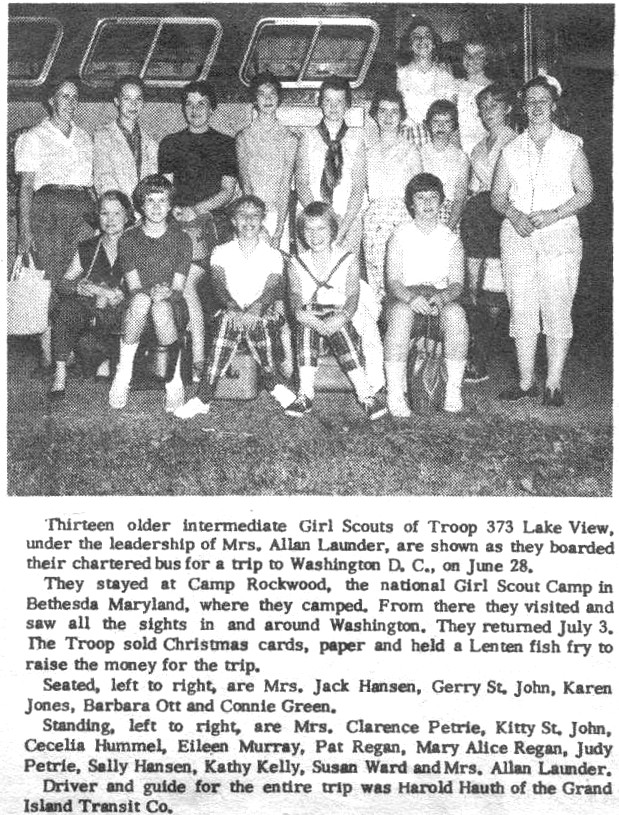 (News clipping contributed by Susan Ward Merk)

"The Arions" (band formed by Jack, Jerry, Bob
and Tom Helta and Matt Carrig-1960)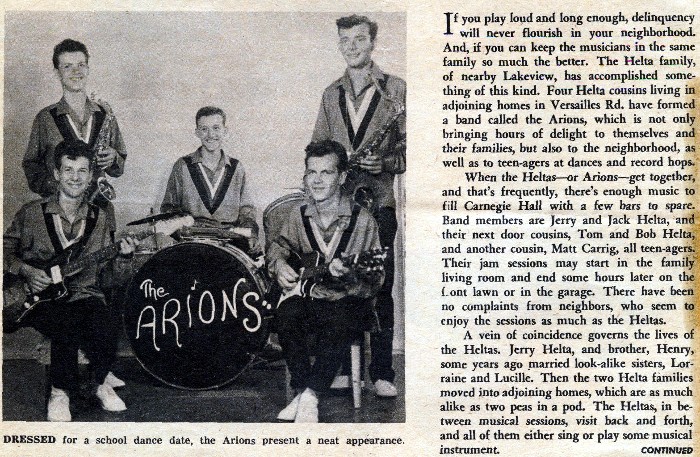 (News clipping contributed by Susan Ward Merk, who painted words on drum)



Lake View Teen Club's Talent Show c. 1958

Gary Ward
acting as Elvis Presley


Jim McGillicuddy as MC


Roberta Ruddy, Sue Moss, Judy Helta, Mary Ann Kocur
Photos of Lake View School Photos of Lake View Buildings and Scenes
Lake View Cookbook from 1950's More photos on Lake View's Facebook Page
History of Lake View Maps of Lake View