Lake View, NY (8/21/1993) Over 215 alumni, teachers and guests came out to celebrate the extraordinary educational experience provided at Lake View School (Hamburg District #12) from 1890 to 1955, along with renewing old acquaintances and refreshing treasured memories.

The reunion was the "brain child" of Donald "Duke" Spittler and Rita Fierle Woods who were aided by a tireless committee, all spending countless hours planning the festivities and locating former students, photos, news clippings, etc. The oldest known alumna - Florence Trinder Flavin, born September 8, 1894 - attended the school from 1899 to 1908 and sent her best wishes.

The structure known as Lake View School came into existence in 1890-91, the actual property comprising about one acre and purchased from Catherine Meyer, the wife of a prominent Civil War soldier and physician, Gen. Albert J. Meyer for $1. For 65 years, hundreds of students not only learned to read, write and do arithmetic in its classrooms and played dodge ball, baseball and jump rope on its playgrounds, but were also granted the unique experience only a small, neighborhood school can provide. When centralization of the school district took place, the building ceased to be used for classes but served the community through other functions such as a Senior Center and a church. Unfortunately fire destroyed the building in November of 1995, which was a great loss to the community.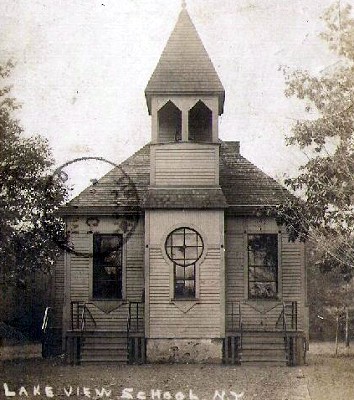 Lake View School - 1905
(Photo provided by Gary Pericak)