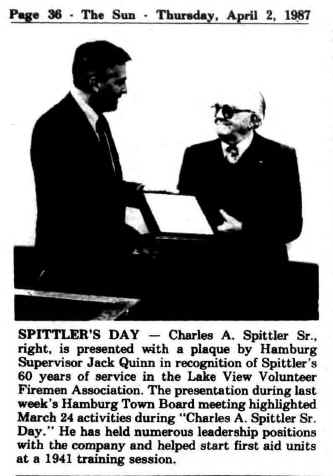 Through the years, he served in many offices including Fire Association President (1942-1944) and Lake View Fire District Chief (1958 - 1959). In 1961, Spittler was elected to his first term as a fire commissioner of the Lake View Fire District where he served until 1997, being re-elected to seven 5-year terms. He served as Chairman of the Board of Fire Commissioners for 20 years from 1974 to 1994. He is also a founding member of the firefighters' Benevolent Association and the Exempt Organization.
The Lake View Volunteer Fire Association is preparing for its 75th anniversary to be celebrated in 1999. "Charley Spittler is a part of this department's history, our link to our founding fathers," said John Wicka, General Chairman and Commissioner. "We could not have become as successful as we have been without the dedication and commitment of Charley Spittler. The fire department and the Lake View community will be ever grateful to him."
In recognizing Spittler's tenure and accomplishments, the Board of Fire Commissioners named him an honorary Lifetime Fire Commissioner of the Lake View Fire District and renamed the board's meeting room the "Charles A. Spittler, Sr. Conference Room". A plaque has been hung in the room in his honor. "Because of his experience and knowledge, the current board will continue to look for his advice and guidance," said Michael Lewis, current Chairman of the Board.
Charles Spittler, Sr. is one of 3 sons and 2 daughters of Edith Metz and George W. Spittler, both deceased. George W. Spittler was one of the original founders and the first Chief of the Lake View Volunteer Fire Association, a position he held for 23 years. Charles and his father George operated Spittlers' Grocery Store in Lake View for over 50 years.
The fire department also gratefully recognized Charles' wife, Dorothy, for being a willing participant in his commitment and service. In March, Mr. & Mrs. Spittler will be married 70 years.


Charlie Spittler also had a regular school bus route which served the schools in the Lake View area for many years. Here are what some of his past riders (now adults) have to say about his influence on their lives:
"Every day started with "Hi, Charlie" and every day ended with "See ya, Charlie" - he cared for every kid who ever rode one of his buses like we were his own kids. He was one of the anchors of my childhood. That's why Lake View is a "home town" and not just a place to be from."
"In his lifetime, (Charlie Spittler) certainly touched the lives of those who lived in Lake View, from his grocery store to his long involvement with the Lake View Volunteer Fire Department to his school bus."

"I thought I'd respond to this tribute because I didn't know the contributions Charlie Spittler made save the importance he meant to my security every day. My friends and I waited for the school bus every morning and Charlie knew who was who and made sure we all boarded the bus regardless if we congregated at that stop or another. Your tribute has taken me back many years. I am now 58 and rarely think of those days. But that tribute and the small paragraph about the bus route and Charlie's Store, Spittler's, which we visited every time we had a Little League game in Lake View, brought back old memories. Thank you for the remembrance."
Charles "Sox" Spittler died September 7, 1999 at the age of 90.
Submitted by Susan Ward Merk, niece of Charles Spittler, Sr. and former resident of Lake View, NY