The 1st piece of equipment used by the Lake View Volunteer Fire Association was 2 40-gallon soda and acid tanks mounted on a hand-drawn cart shown above in photo taken in 1924. The tanks were later mounted on the vehicle to the right and below along with racks to hold the pails, a hand-cranked siren and a foot-operated trolley-type bell.


A Pictorial History of the
LAKE VIEW VOLUNTEER
FIRE ASSOCIATION
© Copyright 1999-2014
Page 2


1916 Cadillac Converted to Fire Truck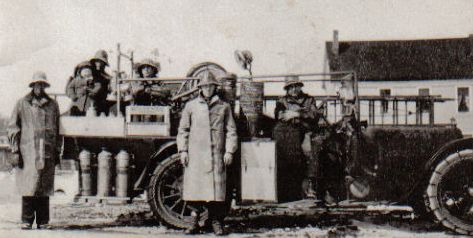 Henry Brudo, Elmer (Pete) Trinder holding son Bobby, Charles Spittler in the back of the truck, Kenneth Spittler standing, and George Spittler in the driver seat. This vehicle was a 12 cylinder Cadillac sedan converted into a truck. In the background is Spittler's store. The building which housed this truck is still standing, next to the Spittler house that later became their garage.

A Community Bands Together to Meet a Growing Need

In the wake of a severe fire in the Congregational Church, the citizens of Lake View, NY met on January 15, 1924 for the purpose of organizing a volunteer fire-fighting unit. Click here for the minutes of that meeting.

To the right is a photo of the Lake View Fire Hall completed and dedicated in 1927 with the 1916 Cadillac (also pictured above) and the 1926 American LaFrance Pumper in front. The latter was sold in 1961 and found its way into a local mall as an attraction for children. Fortunately it found its way home when the Fire Company was able to buy it back in 1992. Read more on this story.


Lake View (NY) Fire Hall 1927
Read more in article from HAMBURG SUN



MORE PHOTOS OF LVVFA

RETURN TO "LAKE VIEW TIMES"


CLICK HERE FOR LAKE VIEW FIRE ASSOCIATION's WEBSITE
Contact the Lake View Fire Association

SUSAN WARD MERK's HOMEPAGE

Send comments or questions re: this webpage to sbmerk@verizon.net
© Copyright 1999-2014 Last Update: 03/18/2014