During the depression years, many families in the area were kept off the relief roles through his generosity and kindness. In the era of "hobo" abundance, Spittler's Food Store in Lake View, NY was known from coast to coast. Whenever trains would stop on the New York Central, Pennsylvania or Nickel Plate, the "hobos" would come running for a free handout. Even many of those wanderers greeted him with a cheery "Mr. George" and would remark about their last stop 2 to 3 years before. He always gave them their choice of cold cuts and even dressed their lunch with an apple, orange or banana.

His friends were an endless number who had felt or heard of his kind heart, and his adversaries were a paucity of shameless deadbeats who defaulted after feasting on his generosity. At his bier, an elderly immigrant with tears in his eyes grasped my father's hand and said, "Mr. George - you giva me my firsta sacka flour when I no gotta money or nothin' to eat - I neva forgetta you."

His generosity was devastating to what could have been a small fortune, but his laborious devotion to business, family and community left little time for the physical pleasures money could have provided.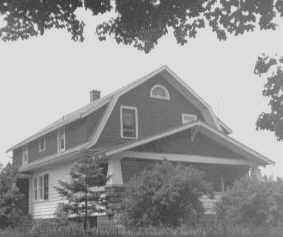 George W. Spittler Residence
Built 1931 - Lake View NY