The following is a tribute to
Naomi Julia Spittler Jewart
(1910-1994)
from her daughter
Cheryl Jewart Masterman
© Copyright 2000-2018 CJMasterman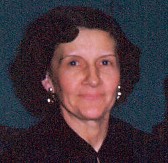 I wanted to write some thoughts down about my mom and the wonderful person she was. She was born Naomi Julia Spittler on December 21, 1910 in Lake View, NY. Her mom Edith and father George owned a store in the heart of Lake View called Spittler's Food Store. It was there that she was taught to be a hard worker and to have pride in the work she was doing. She loved to clean her mom and dad's home for they were both busy with the family business.
She worked in her family's store for some years and stayed home longer than her 3 brothers and sister but finally at a firehall dance she met the love of her life - "Shorty Jewart. That was our dad, Ralph S. Jewart. He was with one of her girlfriends and she yelled out the bathroom window - "Hey Shorty! Where are you going?" Love grew right away and they were married in 1940. Shortly after, Ralph went to war and was in the Navy until 1945. On his return, they moved to Pleasant Avenue where she gave birth to four children - two passed on shortly after birth. Dean and Cheryl came - first Cheryl in 1946 and Dean the baby in 1950. She then went on to build a warm loving home for her husband and children, always there and always ready to share her love with them. She worked each spring picking strawberries on the land on Pleasant Avenue for years to sell and have extra money for her family.
In 1966 she got her first grandchild - Ricky; then in 1969, Tammy was born. Mom and Dad loved having babies in the house again and anyone that went to Mom's house felt the love. She loved as unconditionally as you could ever imagine and tried to show it to her kids and grandchildren. Mom was a a spiritual teacher. She showed us respect, patience and tenderness. Too many people today have no family to come home to. We always did. A warm home and someone to truly care. Mom did this with a love beyond anything I will ever experience again. For her children, her husband and her grandchildren.
She became ill four years ago with short term memory. It was really down hill after Dad died in 1992. She took his passing very bad but even as we cared for her, she always made us feel her love each day. She was 84 years old December 21, 1994. She had people stopping all day with flowers, candy and loving hugs and kisses. She had chicken and biscuits for dinner (her favorite). I put her to bed at 8:30 and before dawn, she was on her way to be with Dad for Christmas. Praise God. Thank God.

SPITTLER FAMILY TREE FAMILY PHOTOS

METZ FAMILY TREE


FAMILY RECIPES

DESCENDANTS of GEORGE W. & EDITH METZ SPITTLER

TRIBUTE TO CAROLYN SPITTLER WARD


SPITTLER-METZ NARRATIVE MORE INFO ON LAKE VIEW, NY

Also visit my Family website on Ancestry.com at
http://trees.ancestry.com/fhs/home.aspx?tid=4590788













Susan Ward Merk's HOMEPAGE


For questions or comments on this webpage contact: sbmerk@verizon.net
© Copyright 1999-2018 Last Update: 01/10/2018