A Tribute to
Helen Mayer Fierle
(1914-2013)
from her son Mark


Helen Mayer was the third child of Edward and Johanna Burgard Mayer of Buffalo then Lake View, NY. She was born June 14, 1914 (Flag Day), preceded by sister Gene and brother Edward and followed by Robert, Peg and Mary and much later by Fran, Joel and Rosanne.
Like many Buffalonians of the times – the Mayer family would spend the summers enjoying the cool breezes of Lake Erie in Idlewood and return to Buffalo for the winter. The move to Lake View (1918) occurred after the end of one summer, when the Mayer children liked Idlewood/Lake View so much, they told their parents they were not going back to Buffalo! The Mayer house in Lake View was in the center of town on Lake View Rd. and was on a large lot with a clay tennis court next to it.
Grandpa Mayer was known as the 'honorary mayor "of Lake View and was instrumental in the founding of the fire department, community association and local Catholic church. He held leadership positions in all these organizations and received many honors. He was a gifted public speaker and known during the 30s, 40s and 50s as leader of the award winning Lake View Fire Association Drill Team. The Mayer children's activities focused around athletics and playing cards. Of course this was before television. Grandpa was born in 1884 and passed away in 1974 at age 90. Johanna passed in 1938 after a long illness.
Gene (Genevieve) Mayer was born in 1909 as first of the Mayer clan. She was a gentle soul and during the great depression was the main source of income in the Mayer household. Work was hard to come by during those days – but she always had a job and kept the family afloat. Jean married Gordon Hummel in 1939. They lived in Lake View all their married lives and raised 5 children - Michael, Cece, John, Bill and Alice. I was very close to my cousins growing up (and still am today). Aunt Gene passed away in 2004 at the age of 95.
Uncle Ed was quite a guy too. Growing up he entered the Brotherhood but didn't stay too long as he was introduced to Lillian Sadarski (sp) and fell in love. They married and had 3 beautiful girls Lillian Marie, Susie, and Rose Marie. Uncle Ed taught math (Tim Russert was one of his students) at Canisius High School in Buffalo and lived in East Aurora . He passed away at the relatively young age of 81.
Mom was the rascal of the Mayer brood – she liked to "dress up "and party hardy. There was the time as a kid, her dad got a new pair of long johns – Helen, one Sunday morning put them on, disguised her face and along with a bible in hand stood in front of the Mayer house on Lake View Rd. and pretended she was a "minister" hailing the locals passing by – to be saved! Also one Halloween she dressed as a crazy woman (neither hard, nor unusual for her) and knocked on Dorothy Spittler's door across the street – Dorothy called out to her husband Charlie that there was this crazy woman at the door! Finally mom had to say to Dorothy – "It's only me."
Helen graduated from Lake View School, went on to Mercy Hospital Nursing School graduating in 1935. She was appointed School Nurse in Hamburg and the pay was $1,000.00 per year, plus she had to buy her own car. The car she bought cost $800.00 – fortunately for her, brother Bob kicked in $400.00. (She gave the car to Bob when she got pregnant and retired from school nursing.) Her assigned schools included Lake View School and she served as school nurse1935-1940.
She had a number of serious boy friends during this time but had her eye on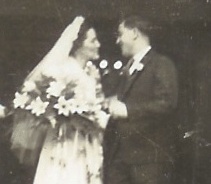 one - Ralph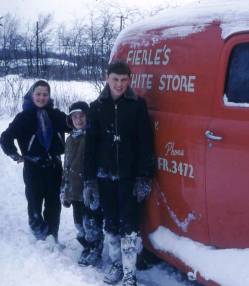 Fierle. Ralph and Helen had been going out for sometime, but nothing serious was taking place. Finally she put the pressure on Ralph and told him if he didn't ask her to marry him she was going to have to break it off. Ralph, being a smart guy, knew when he been had and asked her to marry him .The blessed event took place on Nov. 23, 1939 – they had 50 years together until dad's passing in 1989 . Along the way they had 5 children – Mark -1941, Joanne-1942-1968, Ralph-1946, Dennis-1950 and Tim-1957. Ralph Fierle ran the Red and White grocery store in Lake View (which also doubled as the post office) for many years. (Photo to left is Red & White Grocery truck with Fierle children Joan, Ralph and Mark)
Bob Mayer came into the world in 1915. Growing up he was a great athlete, probably one of the best fast-pitch softball pitchers that came out of Western New York as well as one of the best horse shoe pitchers – he played in competitive leagues well into his 50's. He and my dad Ralph went to St. Joseph 's HS in Buffalo. He passed away at age 88.
Margaret came next in 1918. From an early age on she was known as Peg ("Peg of my heart" was a popular song of the era). Mom always called her sister Peg a survivor. She got through almost anything and never got too upset. She could take it. An example – in the early 1930s she contracted TB and had to be sent to a rehab home for a time – she made it through and came back stronger than ever. In the early 1940's she married Roy Ebel and they had 3 offspring, first the twins Roy and Robert and later on Rosemary. While Uncle Roy was a carpenter by trade – his real love was fishing – this went for Aunt Peg too and she could really catch fish. As they came into retirement, they bought a place on the shores of Chautauqua Lake and lived out their dreams. One thing about Uncle Roy – he was one of the most caring and giving people I ever knew. Roy passed away in the early 90's and Aunt Peg left us in 2005.
The last of the Mayer brood was Mary born in 1922 (Mary, as a note to history was the first child baptized in Our Lady of Perpetual Help Church). Mary was also a nurse and worked for Dr. Amos Minkle in Hamburg for many years. In the mid- 1950's (I should know the year as Michael Hummel and I were Altar Boys at their wedding) she married Jack Brunner. Jack and Mary lived down the street from us on Versailles Rd. and raised 5 fine kids – Becky, little Mark (I was big Mark), Bill, Heidi and Gretchen. Jack passed away in the early 90's and Mary in 2013.
Grandpa always said that Johanna Burgard Mayer was an Angel. Well in the mid 1940's a second Angel came into his life – Joan. They were married in 1947 when she was only 32 and Grandpa was now 63. Grandma Joanie took to the Mayer brood like a fish to water. Along the way they brought us 3 more aunts and uncles - first Fran, then Joel and last but not least Roseanne. For us grandchildren we were lucky as the second generation Mayer children were not like older aunts and uncles but like younger cousins and Joan was our grand mother. Joan passed away in the mid 90's.
Mom was a great mother and we are very fortunate to have been raised by parents that were principled, hard working, knew how to have a good time and helped us through our tough times. She was our guiding light. Helen passed away on her 99th birthday in 2013. © Mark Fierle 2007