TEA CAKE
(from Mary Isabelle McFarlane (1874-1952), great-granddaughter of Philander Lyon; submitted by Kathy Moore, great-granddaughter of Mary Isabelle McFarlane)

Sift together
3 cups flour 2 cups white sugar 1½ teaspoons salt
1 teaspoon cinnamon 1/4 teaspoon nutmeg
¼ teaspoon cloves

Cut In:

¾ cup butter or margarine

Stir In
½ cup chopped raisins
(or other dried fruit, such as dried cranberries)
½ cup chopped nuts
(Reserve 1/3 cup of the above mixture for topping)

Mix: 2 teaspoons baking soda into
2 cups buttermilk 1 teaspoon vanilla extract

Add the wet ingredients to the dry ingredients. Blend well. Pour into greased and floured loaf pans. Top with reserved dry mixture. Bake at 350° for 45 to 50 minutes. Test for doneness. Turn out of pans and cool. Store wrapped. NOTE: This is a very solid, moist cake, and is usually served in 1/2 inch slices. It keeps very well, and is actually more flavorful if kept wrapped for a day or two. It also freezes well.

JONNY CAKE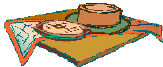 (from Joanna Lyon Gummer (1865-?),
sister of Amanda Lyon Ward)
1 cup sweet milk
1 cup sugar
1 egg
1 tsp. salt
1 heaping tsp. baking powder
1/2 cup wheat flour
2 level cups corn meal
Bake for about 1/2 hour until golden brown.

ROCKS
(from Joanna Lyon Gummer (1865-?),
sister of Amanda Lyon Ward)
½ cup butter 1½ cups sugar 3 eggs, slightly beaten
2½ cups flour 1 lb. dates, pitted and chopped
1½ lb. walnuts, chopped
1 tsp. Soda dissolved in 2 tblsp. Water
1 tsp. Cinnamon ½ tsp. Cloves
Mix all together and form into balls. Bake until golden brown.