Bell Tower of Alcazaba Patio de los Leones (Lion Courtyard) Gardens of Generalife
The ALCAZABA, or fortress, is the oldest part of the Alhambra. It dates to the 9th Century and was rebuilt in the mid-13th century by the Sultan Alhamar, the founder of the Nasrid dynasty.
The 14th century PALACE is the finest example of the hybrid style known as mudéjar, combining the intricate filigree and encrustations of Islamic art with the three dimensional, nature-inspired style of Gothic architecture
The GENERALIFE ("Garden of Paradise") was built in the latter part of the 13th century and was the summer palace of the Sultans.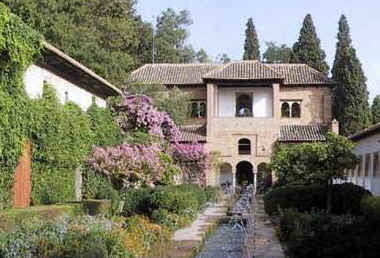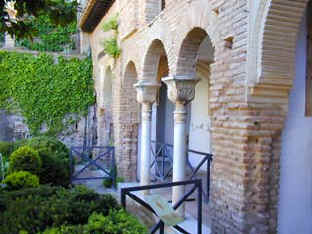 Additional views of GENERALIFE, hunting and summer retreat in the ALHAMBRA
Panoramic view of Granada from the Alhambra


Read Tales of the Alhambra (1829) Washington Irving's classic masterpiece.

The background on this page is taken from a decorative alabaster design in the Alhambra.



M A P of S P A I N

Online HISTORY of SPAIN

MAP of ANDALUCÍA







Click here for a Spanish Fiesta Buffet Menu


Take a Virtual Tour of the Canadian Rockies with the Smithsonian
SUSAN MERK's HOMEPAGE



For comments or questions re: this website contact: sbmerk@verizon.net
Last Update: 02/26/2006 © Copyright 2002-2010